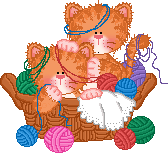 Hi Guys!
I've been getting a ton of emails regarding the colour for our upcoming kal and I just wanted to post a message to you all about it.

This is going to be a very beautiful show piece in your home...you may want to use it in your kitchen, your dining room or maybe in your living room. When you are done with it you're going to want to show it off! So when you are choosing the colour for it, choose a SOLID colour that would look really pretty in your home. I can't seem to decide whether to use my BOSTON BLUE or a BEIGE of some sort...I'm leaning toward the BOSTON BLUE just to add a little colour to the room where I'm going to display it. White, cream and beige are probably really good colours to go with if you can't make up your mind because they are so neutral and can go with just about anything...but if you are wanting to use a pretty colour I would go with something nice and soft and calm.
I hope that makes it a little easier for you to decide on a colour. I'm getting really excited for this one...it's nice to see everyone else so excited about it as well!
Thanks again to all of you who are choosing to knit this one with us...believe me, if you don't knit it with us, I can guarentee you that you're going to want to knit it after you see it!

Hope you all had a wonderful weekend!

Hugs for a great day,
:o)
Rachel